Tonegawa River is the biggest river in valley area and is the 2nd in length in Japan. It runs from WNW to ESE direction in the Kanto Plain, and last, flows into Pacific Ocean.
At the central region of the Kanto Plain, Tonegawa River makes a subsidiary stream named Edogawa River. It runs to south direction and flows into Tokyo Bay.

Nagareyama city progressed as a port town on the Edogawa River after the 17th century.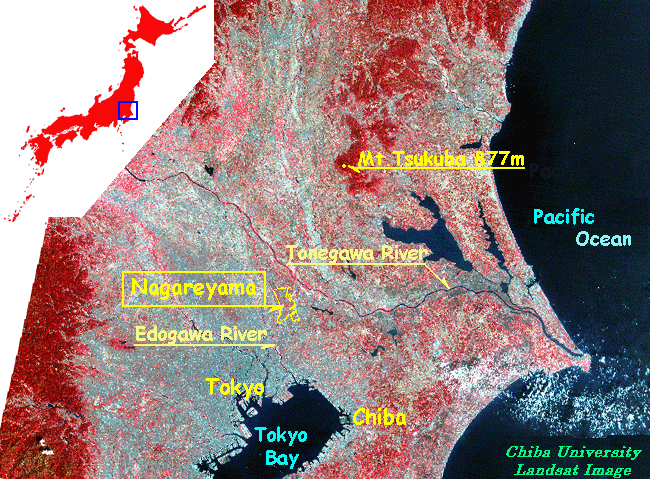 In 1890, Anthonie Thomas Mulder, who is a civil engineer invited from the Netherlands, built the Tone Canal. The canal connects Tonegawa and Edogawa on the north in Nagareyama, therefore Nagareyama prospered increasingly as an important port. However, the glory of nagareyama did not continue for a long time. The railroad which developed quickly is because river ship transportation has been screened.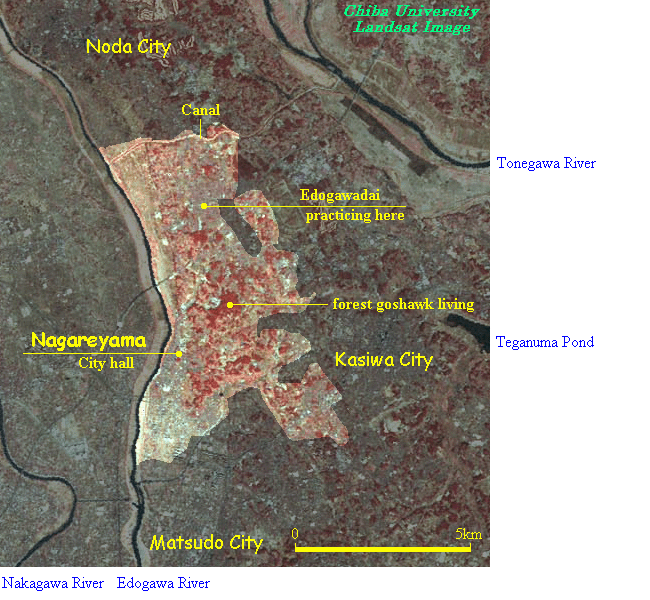 Present Nagareyama is a town with many quiet residential sections.
Riverside lowlands have many paddy fields. The commercial ground from ancient times is also located in riverside lowlands. The altitude is about 5m above-sea-level.
In the plateau distant from the river, there are a quiet residential section, a small shopping center, a field, and woods in which goshawk lives. The altitude is about 20m or less.


---
Landsat images are provided by Professor A.Kondoh and his study room of GDES, Chiba University.
http://dbx.cr.chiba-u.jp/gdes/