The month of August is the summer vacation in Japan. At school, it begins in late July and continues during August. At most of factories, they have mass leave around 5 to 10 days in mid-August. At most of business offices, stores and governmental offices, there is no mass leave. They will have around 5 to 10 days vacation in rotation.

In the vacation, some people go to seaside, highlands and mountains. Many people return to their hometowns and spend time with relatives and old friends. An important Buddhism ceremony is held from August 13th to 16th.

By the way, some representative flowers in August are Morning-glory, Sunflower, Oleander and Lotus, I think so.

The Morning-glory blooms every morning. They give us a morning fresh feeling.




Under the scorching sun, Sunflower is the most dynamic flower. It was brought into Japan in 1666. The land of origin is North American Continent.

Hiroshima-city was burned to the ground by an A-bomb on August 6, 1945, and it was said that neither a grass nor a tree would grow in three-quater century. But Oleanders bloomed at the first in the next summer. The citizens were encouraged by them. Oleanders are not well liked because of their highly toxic, but they are special flowers for the citizens of Hiroshima.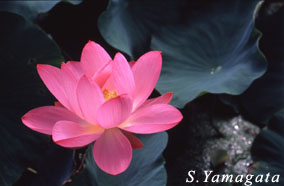 Lotus sets up his roots in mud, and lengthens a stem from muddy water. And in air, it blooms beautiful and fantastic.
For this reason, Lotus becomes the most important flower in Buddhism.
In Buddhism, it is told that from the deep worldly desires, the highest realization opens out.
In addition, it is said like this, Lotus does not bloom on cool highland, but in mud on hot low land.