There are four seasons in Japan. But there is a rainy season between spring and summer. You may think it the fifth season, and it continues for six weeks generally.
In Tokyo and its neighborhood, when the first one week of June passes, the rainy season begins suddenly. In the beginning of rainy season, the rain is weak, and we have some clear days. It continues for around 4 weeks. However, for last around 2 weeks, rain falls heavily.
The rainy season is over suddenly, and midsummer begins. It is the latter half of July.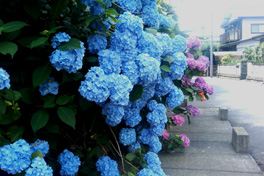 A typical flower in this rainy season is a hydrangea.
Its country of origin is Japan.
A hydrangea appeared in the Japanese historical literal work " A Collection of a Myriad Leaves " ( Man' yôshû ), edited in the seventh or eighth century.
Now, a hydrangea is loved all over the world, and I hear that it blossoms from March to November in the Netherlands. But in Japan, it blooms only in this rainy season for around 6 weeks.



From 1823 to 1828, Philipp Franz von Siebold from Germany stayed in Japan and performed medical education to Japanese young men. When he went back to his own country, he carried hydrangea named Hydrangea-Otaksa by himself, and introduced it into Europe.


" Otaksa " is associated with the name of his Japanese wife - "o-Taki-san".





Charles Maries of " Veichii Company " from Britain brought hydrangea-Mariesii to Britain in 1879. European hydrangea of various kinds was made from it. Later on, these were imported back into Japan.

A hydrangea has kinds of various colors such as blue, purple, red, white. But at the first, it is light green color. and it goes white, and next, the original color is gradually mixed. However at around its end, the color changes again. In the language of flowers a hydrangea means "caprice".


First, it's light green
&lt
various colors &gt
And at the end of rainy season, it's same at the opening of the midsummer, a hydrangea blossom shall lose his color.